PS 300 TRION Barrel Grip Jigsaw in Systainer - PS 300 EQ-Plus
Special order item. Please allow 5 - 14 business days before collection or postage. Please contact us for accurate item availability. Special order conditions apply.
Sale
Sale
Original price
$585.00
-
Original price
$585.00
The TRION pendulum jigsaw – thoroughly robust, powerful and ergonomic. The patented three-way saw blade guide with parallel adjustable carbide jaws guarantees absolute precision while the splinter guard reduces reworking. And, with perfect ergonomics and an ideal centre of gravity, the TRION is also easy and safe to operate with just one hand.
Main applications
Cut-outs for sinks and kitchen hobs
Trimming work on furniture, kitchens, for interior fitting
Cutting circles and curves
Coping end strips
Cutting workpieces to length
Edge notching on beams
Cutting from below
Powerful and consistently accurate
Rapid cutting progress and superior precision are just two of the impressive characteristics of the TRION PS 300. The patented three-way saw blade guide with parallel adjustable carbide jaws guarantees straight precision cuts. And, thanks to the simple sw
Improved smooth running
The high-performance motor ensures high torque and is both smooth-running and durable at the same time.
Designed to fit in your hand
As a result of the flat motor and compact handle dimensions, the machine fits in your hand perfectly and is easy to guide.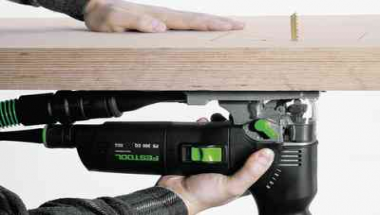 Working from below
The ergonomic design of the TRION pendulum jigsaw comes into its own when you cannot see it – when working from below. The importance of excellent handling and smooth running also becomes evident here, as well as the low weight of 1.9 kg.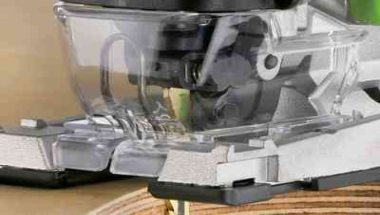 Integral dust extraction
Extraction channels integrated in the saw table, in combination with a Festool mobile dust extractor, guarantee effective dust extraction directly at the saw blade. This provides a clear view of the cut, cleaner results and dust-free working conditions.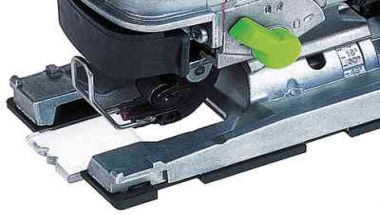 Splinter-free cuts
The simple but effective splinter guard ensures splinter-free cuts and avoids time-consuming finishing work, even on veneered surfaces. Typical Festool: Precise right down to the smallest detail.
Rapid saw blade changes
The FastFix quick-clamping saw blade system saves you time and money without the use of additional tools. Sealing MIM technology (Metal Injection Moulding) and the fibre-reinforced quick-clamping lever guarantee lasting reliability.

Antistatic Function
Dust extractors and tools with antistatic function to prevent static buildup when working.

MMC Electronics
Multi Material Control power electronics with adjustable constant speed and temperature monitoring for work with all types of materials.

Jigsaw with Precision Guidance
Wear resistant carbide jaws guide the saw blade directly over the cut position. For precise results.

Splinterguard
Patented splinterguard for splinter free cuts on both sides when sawing.

FastFix
Makes changing accessories or consumables for routing, sawing, planing, sanding, drilling and screwdriving tools easier.

Guide System
Patented guide system for safe guidance of saws and routers.

CLEANTEC Connection System
Integrated bayonet fitting as the connecting element between the extractor and the tool.

Plug-it
Removable, replaceable power cable with safety lock for fast switchover.

Plus Systainer
Plus versions of power tools come in systainer storage containers.
Includes
PS 300 TRION Barrel Grip Jigsaw in Systainer
Tech Specs
Cutting Depth - Soft Steel (mm) 10.00 mm
Inclination Angle (°) 0 - 45 °
Cutting Depth - Wood (mm) 120.00 mm
Cutting Depth - NF Metals (mm) 20.00 mm
Stroke Rate (rpm) 1 000 - 2 900 min⁻¹
Pendulum Cover Adjustment Stages 4.00
Power Lead Type Plug-it Lead
Power Consumption (W or kW) 720 W