RAP 150mm SHINEX Low Speed Polisher - RAP 150-14 FE
Special order item. Please allow 5 - 14 business days before collection or postage. Please contact us for accurate item availability. Special order conditions apply.
Sale
Sale
Original price
$815.00
-
Original price
$815.00
The RAP 150 mm SHINEX rotary polisher is an impressively light and ergonomic machine for all purpose use, even on delicate surfaces. The variable speed trigger enables a sensitive start to polishing with precisely adjusted low speed, which can be adjusted and fixed at any speed up to 1,400 rpm. The integrated heat sink maintains a pleasant grip temperature and the reduced distance between the polisher body and pad gives optimum transfer or force and precise, sensitive control. Festool offers a complete polishing system including a large range of polishing pads and polish, guaranteeing a perfect finish with every job.
Main Applications
For high torque in the lower speed range
Polishing paintwork
Polishing mineral materials
Ideal for horizontal and vertical surfaces
Awkward, curved spots with high coverage capacity
 
All purpose polishing
With the SHINEX and its range of accessories, you always have the perfect solution at your fingertips. For applications relating to paintwork, mineral surfaces and polishing furniture to a high gloss.
Power controlled
Power is one thing, but its important to be able to apply it in the right amount. The variable speed trigger allows you to start the SHINEX gently and speed it up to as much as 1,400 rpm.
Working close up
The minimal distance between the body and the pad gives an optimum transfer of power and allows sensitive and precise polishing.
Perfect working conditions
The ergonomic shape of the handle and high quality soft grip material make the SHINEX noticeably more pleasant and secure to guide with very little effort.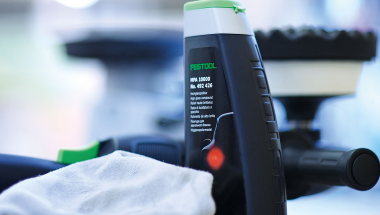 Polishing systems
Polishers, polishing pads and polish - a complete polishing system from one manufacturer guarantees the optimal results, quickly and effortlessly.

FastFix
Makes changing accessories or consumables for routing, sawing, planing, sanding, drilling and screwdriving tools easier.

MMC Electronics
Multi Material Control power electronics with adjustable constant speed and temperature monitoring for work with all types of materials.

PoliStick
Rapid fastening system for attaching felt, foam or sheepskin polishing pads. For greater efficiency.

StickFix
Quick, economical fastening system for abrasives - no adhesives, no clamping.
Includes
RAP 15O Low Speed SHINEX Polisher
StickFix Polishing Pad D 150 mm
Tech Specs
No Load Speed (rpm) 600 rpm - 1,400 rpm
Power consumption 1,200 W
Polishing Pad Diameter (mm) 150 mm
Power Lead Type Fixed Lead
Power Consumption (W or kW) 1,200 W