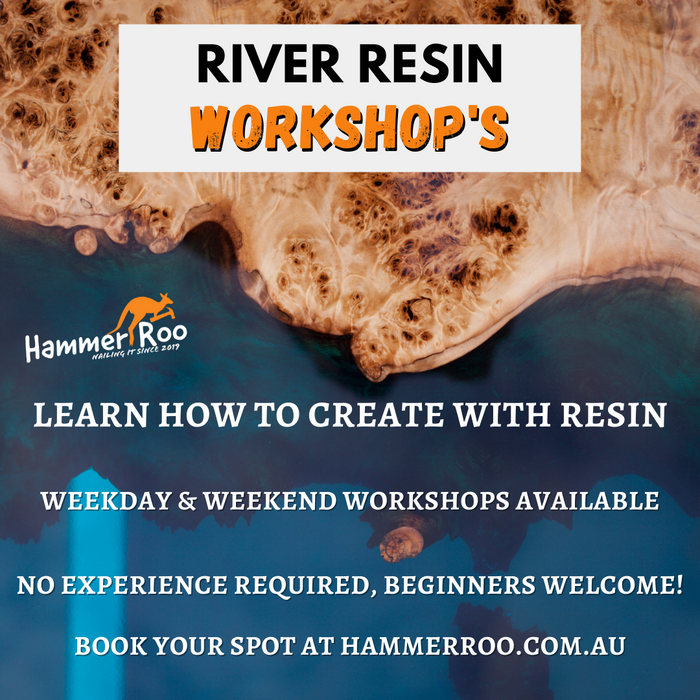 River Resin Workshops
Original price
$480.00
-
Original price
$480.00
This is not a physical product. This is a service we offer in the Hammer Roo workshop.
CURRENTLY NO DATES ARE SET. PLEASE KEEP AN EYE ON OUR WEBSITE & SOCIAL MEDIA ONCE WE RELEASE DATES.
Ever wanted to give resin a go? Well here's your chance!
No experience required, beginners welcome!
We will teach everything from:
- Creating Moulds
- Timber Selection
- Resin Selection
- Board Preparation
- Mixing/Pouring Resin
- Sanding/Finishing
This 3-4 hour course includes all materials to make a resin serving board.
We run courses as small groups of no more than 1 instructor to 5 students
You are able to pick from our large colour selection to create your serving board. These are the same Mica Powders we use to create our own pieces.
The skills learnt in this workshop are transferable to bigger projects such as hall tables, coffee tables, dining tables & more!
Please note:
Your piece will require additional work when you take it home. River Cast Resin takes up to 7 days to cure before demoulding & sanding can take place. We will teach all techniques required for this process.