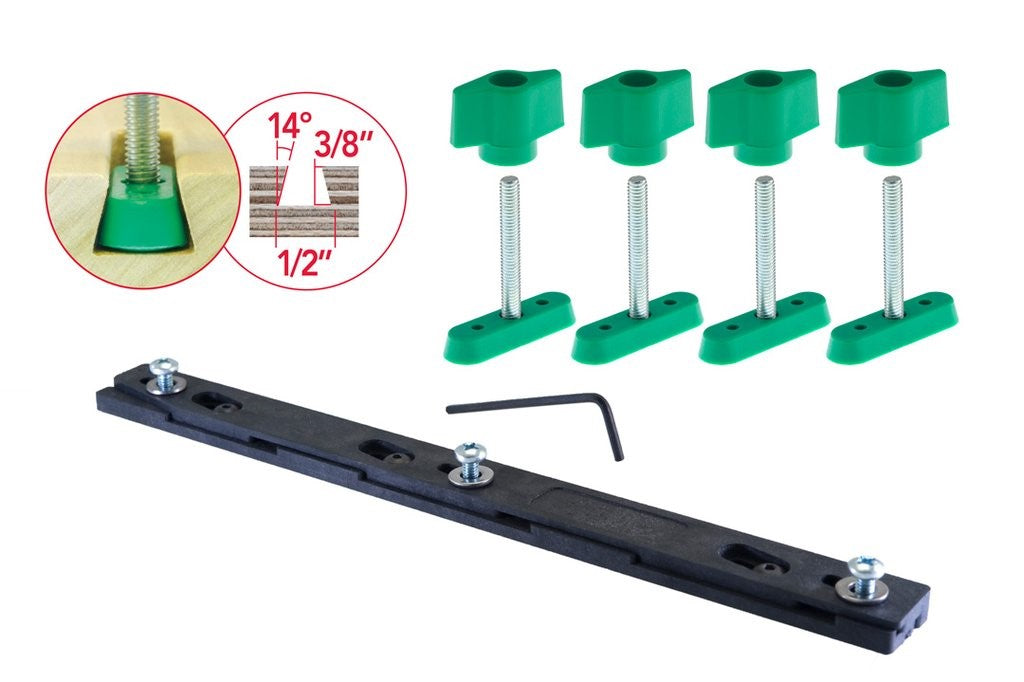 MicroJig Zero Play 360 Sled Kit
Original price
$44.90
-
Original price
$44.90
Micro Jig's Zero Play 360 Sled Kit is the last table saw sled you'll ever need.
All the hardware you need to build yourself a crosscut and taper sled. The ZeroPlay 360 Sled Kit combines the ease and accuracy of ZeroPlay Mitre Bars with the versatility of MatchFit Dovetail Hardware.
Build the most versatile sled in your shop, fast
Many table saw sleds have only one function, and factory mitre gauges have a limited range of angles.  With its unique grid layout of dovetail grooves, this sled is fully adjustable to cut any size stock at any angle.
It's a match(fit) made in heaven! Using the ZeroPlay Mitre Bar's one touch calibration, you will instantly fill the full width of the mitre slot for no side-to-side play.  Its top-down installation allows you to square your sled to the blade in a snap.
Simple Specs
Fits standard 3/4" x 3/8" (19 x 9.5mm) T-Track mitre slots
Sliding Mitre Bar: 232mm long
What's in the Package?
One ZeroPlay Mitre Bar
ZeroPlay Mitre Bar Instructions
One MatchFit 1-1/2" Dovetail Track Screw Hardware Pack (4x Dovetail Track Screws, 4x Wing Knobs)
Illustrated 360 Sled Plans
What else do you need to build it?
Some 19mm Plywood (at least 550 x 500mm)
A 14 degree 1/2" Router Bit (MatchFit Dovetail Bit recommended)
A Table Saw (obviously)
About an hour of your time
360 Degrees of Adjustability & Everything But The Wood
The unique grid layout of dovetail grooves allows you to set your fence at any angle, and lock it in place with the included MatchFit Dovetail Hardware.  No matter the angle of your cut, the ZeroPlay Mitre Bar keeps the sled running parallel to the blade at all times.
This sled is incredibly easy to build. The package includes easy to follow plans. 
Add your own MatchFit Dovetail Clamps to secure material when cutting tricky angles. For instance, tapered legs are typically cut at a deep angle, and need to be secured very close to the blade.  You don't want your hands anywhere near that cut. Dovetail Clamps secure the material for you, keeping your hands safely clear of the blade.