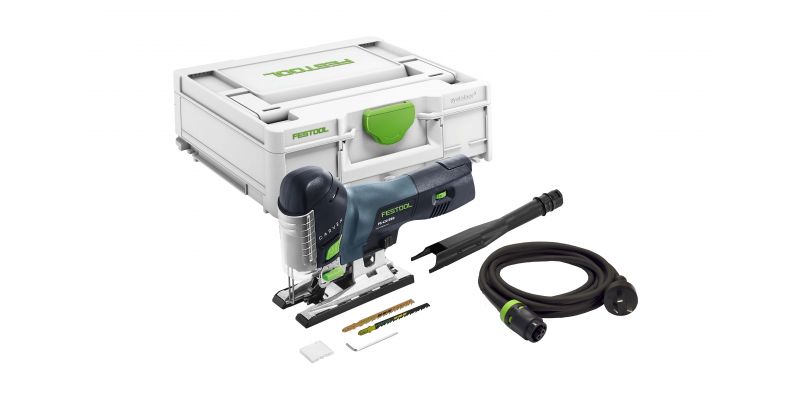 PS 420 CARVEX Barrel Grip Jigsaw in Systainer - PS 420 EBQ-Plus
Original price
$799.00
-
Original price
$799.00
Availability:
Special Order Item. Allow 5-14 business days before collection or postage.
Ergonomic, lightweight and handy – work quickly and comfortably in any position with the CARVEX. The machine operates at 3800 strokes per minute for inimitably powerful cutting strokes and unbeatable profile-cutting capacity. It is common knowledge that power only becomes a valuable resource when it is combined with exceptional precision. That is exactly the approach we have been taking with a redesigned hammer guide for an unprecedented degree of accuracy. The parallel adjustable guidance jaws keep the saw blade on track and guarantee maximum precision. It has all the typical characteristics of a CARVEX, but the first time you use a machine from the new CARVEX PS 420 generation, you will undoubtedly feel the difference.

Main applications
Cut-outs for sinks and kitchen hobs
Trimming work on furniture, kitchens, for interior fitting
Cutting circles and curves
Coping end strips
Cutting workpieces to length
Edge notching on beams
Cutting from below
Optimum handling and operation
With a weight of only 1.9 kg, slim, ergonomic design, non-slip soft-grip coating and on/off switches mounted on both sides (also centrally on stirrup handle version) for right-handed and left-handed operation.
The shape makes the difference
You have the choice: Guide the CARVEX PS 420 directly to the ergonomic soft-grip barrel grip, while the CARVEX PSB 420 has a handy top handle. You decide based on your preferences – it makes no difference to the power, comfort or ergonomics of the tool.
Working without interruption
The plug it-cable which can be swivelled 90° shortens the installation length of the cable versions by 10 cm, making the CARVEX much easier to manoeuvre.
Powerful
3800 strokes per minute generate outstanding power – assisted by an EC-TEC motor with energy efficiency that guarantees lasting power even for the cordless versions.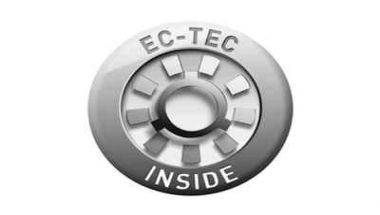 More power, fewer energy requirements
The brushless EC-TEC motor and the newly developed gearbox concept transfer more than 80% of the power generated to the saw blade. For rapid sawing progress in any material.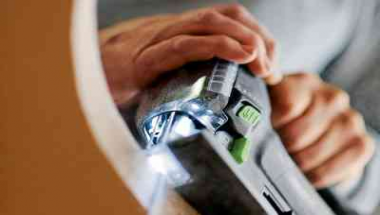 Precision cutting along the scribe mark
The stroboscopic light brings the saw blade to a visible stop, while dust extraction and the blowing function of the CARVEX keep the view of the scribe mark free.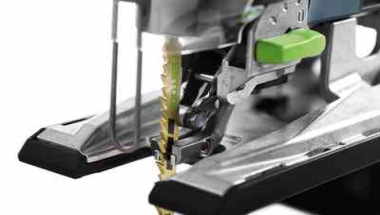 Perfectly straight, accurate cuts
The lifting rod guide and parallel adjustable carbide jaws act as a third saw blade guide to ensure straight precision cuts.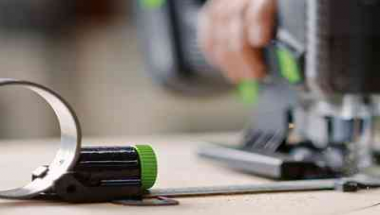 Accurate circular cut-outs
Even the smallest circles (radii of 34 mm to 1.5 m) are easy to manufacture with the core maker and compatible jigsaw blade, e.g. the S 75/4 FSG.
Guaranteed precision
Mitre cuts and undercuts of 0 to 45° are made with the quick-change angle table.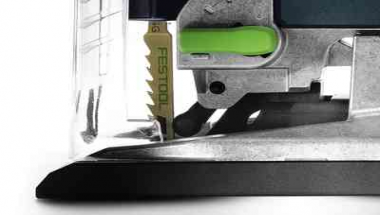 Changing saw blades without using tools
Adapting to the working material is worth it because the results are more accurate and the saw blades last much longer. The Festool system is therefore designed to reduce set-up times, e.g. with single-handed saw blade changing.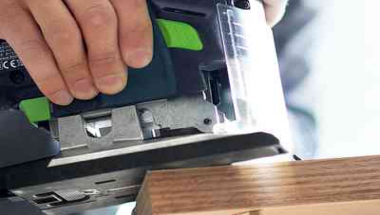 Sophisticated design right down to the smallest detail
The lowerable dust-extraction attachment for the CARVEX PS 420 jigsaws improves suction power and therefore your view as you cut.

Antistatic Function
Dust extractors and tools with antistatic function to prevent static buildup when working.

MMC Electronics
Multi Material Control power electronics with adjustable constant speed and temperature monitoring for work with all types of materials.

Jigsaw with Precision Guidance
Wear resistant carbide jaws guide the saw blade directly over the cut position. For precise results.

Splinterguard
Patented splinterguard for splinter free cuts on both sides when sawing.

FastFix
Makes changing accessories or consumables for routing, sawing, planing, sanding, drilling and screwdriving tools easier.

Guide System
Patented guide system for safe guidance of saws and routers.

CLEANTEC Connection System
Integrated bayonet fitting as the connecting element between the extractor and the tool.

Plug-it
Removable, replaceable power cable with safety lock for fast switchover.

EC-TEC Brushless Motor
The EC-TEC drive concept generates an extraordinary amount of power while consuming extremely low amounts of energy.

Plus Systainer
Plus versions of power tools come in systainer storage containers.
Includes
PS 420 CARVEX Barrel Grip Jigsaw
Tech Specs
Cutting Depth - Soft Steel (mm) 10.00 mm
Cutting Depth - Wood (mm) 120.00 mm
Cutting Depth - NF Metals (mm) 20.00 mm
Stroke Rate (rpm) 1 500 - 3 800 min⁻¹
Pendulum Cover Adjustment Stages 4.00
Power Consumption (W or kW) 550 W