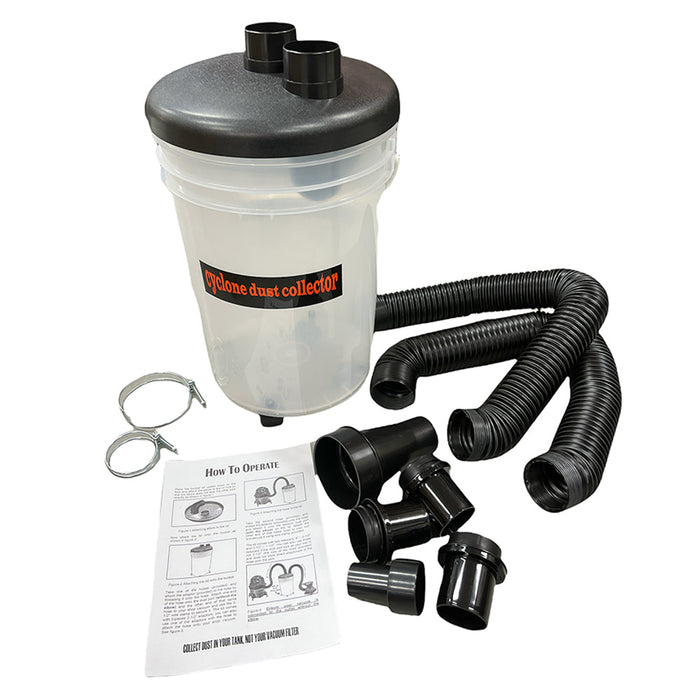 Cyclone Dust Collector Bin & Hose Fittings Kit Z-100
Sold out
Original price
$139.90
-
Original price
$139.90
Collect dust in your tank and not your vacuum filter! This simple and efficient solution aids in cyclonic dust separation methods - the combination of convenience of being able to easily empty the collection bin, combined with only a small amount of dust getting to the vacuum itself (and filling the dust bag). Connect your vacuum to the central vertical outlet and setup the collection hose to the side / angled outlet on the lid (this allows for the dust to spin around the edge, the dust is heavy and spins to the outside of the bin hitting the edge of the bucket and causing it to drop down to the bin base).
Specification:-
22L Translucent Plastic Bin with Lid and Attachments / Fittings to connect to standard Vacuum
12" 2 stage cyclone dust separator
2 x 2-1/2" PP Hose
1 x 2-1/2" Elbow
1 x 2-1/2" * 1-1/4" Reducer
3 x 2-1/4" * 2-1/2" Quick Coupler
1 x 4" *2-1/4" (shop Vac) Reducer
1 x 4-1/4" Hose clamp
1 x 2-3/4" Hose clamp
Packaging + Shipping
Shipping Weight (Gross) 3.0 kg 

Delivery
We can send Australia wide!
Machines under 30kg & easily handled by a single person can usually be sent by courier (no PO Boxes or Parcel Lockers).
Machines weighing more than 30kg must be placed on a skid or pallet.
If a product is over 30kg you can:
- Pick it up from the closest courier depot.
- Pay a tailgate drop fee for delivery to door.
For a heavy item quote, please contact us below!