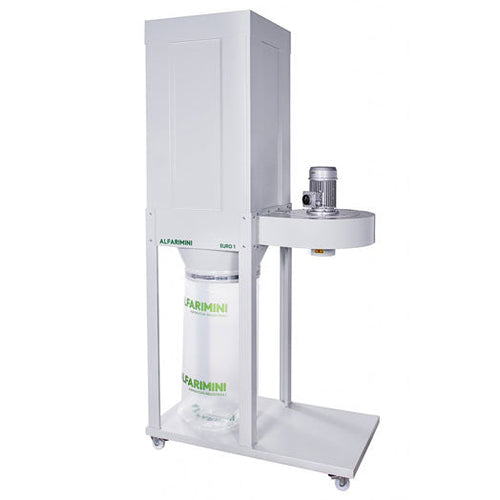 Silenced Dust Collector Euro 1S by Alfarimini
Original price
$5,999.00
-
Original price
$5,999.00
Availability:
Special Order Item. Allow 5-14 business days before collection or postage.
EURO 1 is an extraction unit with professional specifications and power. It belongs to the wheeled range of extraction units called Euro. The standard version includes 9 cotton filter sleeves, an ideal fabric for filtering coarse dust and wood shavings, plastic and others. Should it be required to filter particular or very fine dust, it is possible to replace the cotton sleeves with other sleeves in more appropriate fabric, or install a cartridge filter, that ensures even the finest dust is collected and not dispersed in the environment. The top filtering part is enclosed in a sturdy frame in painted sheet metal (casing). It is fitted with a capacious nylon collecting bag and with a 3HP three-phase motor.
The fan may be mounted either with the extraction inlet facing upwards or downwards. The machine is always supplied with a manual shaker, a mechanical system patented by Alfarimini, which makes it possible to conveniently clean the filter sleeves.
As an alternative, the Euro 1 may be requested complete with electrical shaker. On the roof of the machine is a hole, for connecting appropriate piping and exhaust the purified air outside. The motor is always fitted with a 1.5 m power cable and motor protection circuit breaker. Even in this model there is a so-called version SILENCED. This solution has an engine from 4 poles (1,400 rpm) and a large fan.
Thanks to the fact that the motor rotates at half number of turns compared to a standard engine, the noise of the fan is very low such as to make the truly silent work environment. All Alfarimini motors and machines are manufactured entirely in Italy, with top quality Italian or European components. They are highly reliable machines.
9 x 180 x 1030mm Filtering Sleeves
Delivery
We can send Australia wide!
Machines under 30kg & easily handled by a single person can usually be sent by courier (no PO Boxes or Parcel Lockers).
Machines weighing more than 30kg must be placed on a skid or pallet.
If a product is over 30kg you can:
- Pick it up from the closest courier depot.
- Pay a tailgate drop fee for delivery to door.
For a heavy item quote, please contact us below!