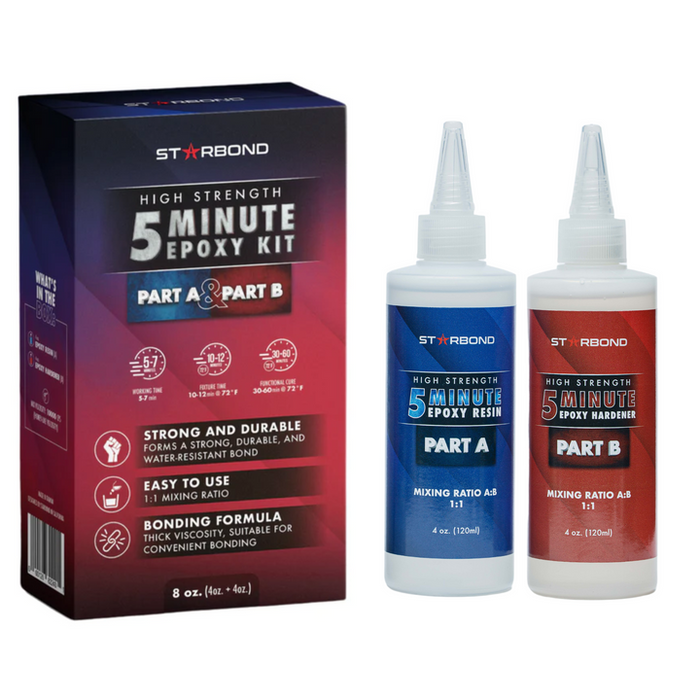 Starbond 5-Minute Epoxy Kit 8oz
Save

12

%
Save

12

%
Original price
$44.90
-
Original price
$44.90
Starbond 5-minute Epoxy Kit, Easy 1:1 Ratio, 8 oz.
Starbond 5-Minute Epoxy is a high-performance adhesive designed to make your life easier. It is an easy-to-use 2 part formula that offers reliable durability, dries clear, and holds up to the elements. Once mixed, this epoxy has an ideal viscosity that is thin enough to penetrate porous surfaces while also thick enough to bridge gaps for a strong and seamless bond.
Starbond 5-minute Epoxy is fast-setting, water and weather resistant, and can handle heat up to 300 degrees Fahrenheit. It is also environmentally friendly and specifically designed to be low VOC, so you can use it with confidence.
This epoxy is also extremely easy to use! The 1:1 mixing ratio means that there is little-to-no measuring needed, just dispense the resin and hardener in equal parts and mix. You have around 5 minutes of working time, and it takes 24 hours to fully cure.
Whether you are a professional woodworker, hobbyist, or just looking for a reliable multi-purpose adhesive for your next creation this is the adhesive for you. Use it for repairs, maintenance, or to bond together your latest DIY crafting project. Try it today and experience the Starbond difference!
Easy Mixing Ratio:
1:1 mixing ratio that is easy to eyeball.

Useful Mixing Tools:
(2) non-stick epoxy mixing palettes and (1) non-stick silicone spatula.
Strength For Jobs Superglues Can't Handle:
Industrial bonding strength, structural integrity, and resistance to shear forces that typical superglue can't handle.
Quick Setting Time:
This epoxy quickly sets in 5 minutes with a functional curing time of just 1 hour and full cure in 24 hours. (Clamping is advised).

Versatile:
Compatible with wood, metal, glass, ceramic, concrete, carbon fiber, 3D printed parts, fiberglass, fabric, and more.
Each Box Includes:
Part A: 4 oz.
Part B: 4 oz.

You also get two Starbond 6-Pocket Mixing Palettes and one Mini Silicone Spatula with every 5-Minute Epoxy Kit. These palettes are ideal for effortlessly mixing small quantities of 5-Minute Epoxy.