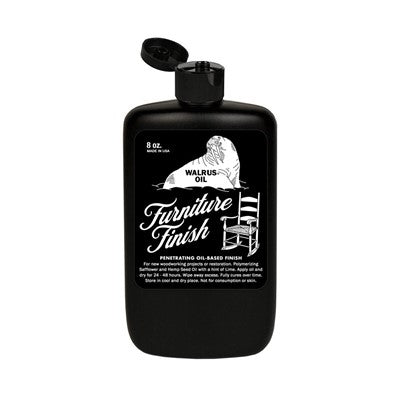 Walrus Oil Furniture Finish
Original price
$21.90
-
Original price
$165.00
Walrus Oil Furniture Finish is a completely natural, vegan friendly, penetrating oil-based finish that soaks deep into hardwoods, enhancing the timbers natural colours and tones. There are no dyes or added dryers that can cause yellowing. It is ideal for all hardwood furniture projects, picture frames and more. It is non-toxic and 100% food safe - just in case you want to eat straight off your table. Walrus Oil Furniture Finish cures to a beautiful smooth matte finish.
Non-toxic
Every wood finish produced by Walrus Oil is non-toxic and certified 100% food safe. It's made of polymerising Safflower oil, tung oil, hemp seed oil with a hint of lime for freshness. You are free to use them on wooden furniture, counter-tops, cutting boards and wooden utensils. Walrus Oil Furniture Finish is perfect for your kid's furniture and toys.
Easy to apply
The next best thing about Walrus Oil Furniture Finish is that it is very easy to apply. Simply apply a thin layer to your workpiece until the entire surface is covered, wipe away any excess oil. Allow to dry for approximately 24 hours and. Apply multiple coats until your desired look is achieved. A light sand may be necessary between coats if there is any raised grain.
Earth friendly
Walrus Oil Furniture Finish is Earth friendly. The product range is 100% free of toxins and synthetic chemicals. Old mother Earth will thank you.
No Walrus Harmed
Walrus Oil produce a range of products from wood finishes to leather care to lip balm. Walrus Oil has been built from a love of nature and a commitment to making clean and safe products that are good for you and good for the environment.

Use Walrus Oil on your next project.