Connector Assortment Systainer for DF 500 - KV-SYS D8
Special order item. Please allow 5 - 14 business days before collection or postage. Please contact us for accurate item availability. Special order conditions apply.
Sale
Sale
Original price
$599.01
-
Original price
$599.01
For use with the DOMINO DF 500 Joining Machine. The Domino connection Systainer provides all parts of the Domino 500 connector system including all the D8 connectors, the associated drill template, the hinge location cutter and the cover caps. DOMINO connector fasteners allow you to smoothly assemble and disassemble furniture panels and more with minimal time and effort. The connectors' large tightening distance and long bolts make furniture assembly significantly easier. Cupboard assembly is therefore no problem, and you can do it easily on your own. The flush-screwed fixture elements protect each furniture component from being scratched. Routing and cutting tolerances of up to 1.4 mm are compensated for without problems by the fixture. The new detachable DOMINO basic structure connectors and furniture connectors are perfectly suited for a panel thickness of 18 mm to 28 mm. 
Produce quick and easy joins
All joints can be produced quickly and easily with the DOMINO DF 500 Joining Machine.
Stable yet detachable
Because of its high tolerance compensation and high stability, the stable yet detachable DOMINO joining system enables seamless assembly and disassembly of a piece of furniture – both in the workshop and at the customer's site.
Work error free
Produce a detachable corner joint easily. Use the drill template with a dust extractor to specify the exact position and depth of the drilled hole.
Everything you need
The Domino 500 Connector Range contains all DOMINO D8 connectors. The ideal way to get started with the DOMINO 500 system.
Different material thicknesses - No problem
All material thickness between 18 mm and 28 mm can be machined effortlessly with the connectors.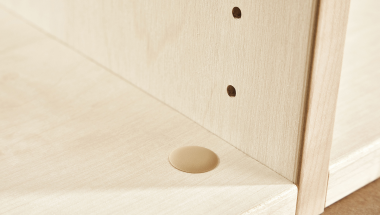 Different coloured caps
Caps are available in 4 different colours. Brown, Silver, White and Grey.
Includes
70 x Domino 500 Corner Connector KV D8
20 x Domino 500 LR32 Corner Connector KV-LR32 D8
10 x Domino 500 Centre Panel Connector MSV D8
10 x Domino 500 LR32 Centre Panel Connector MSV-LR32 D8
50 x Cover Caps Dark Brown
Domino Beech Tenons 8 mm x 36 mm
Domino 500 Drilling Template 15 mm
Domino 500 Hinge Location Cutter 15 mm