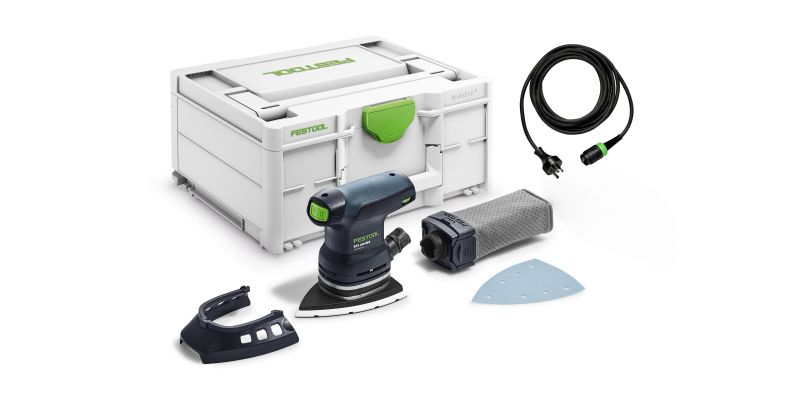 DTS 400 REQ 100 x 150mm Orbital Iron Head Sander in Systainer - DTS 400 REQ-Plus
Original price
$735.00
-
Original price
$735.00
Availability:
Special Order Item. Allow 5-14 business days before collection or postage.
Makes sanding overhead for sustained periods of time effortless. The RUTSCHER orbital sander, delta sander and eccentric sander are equipped with maximum flexibility for individual task requirements: The new generation RTS, DTS and ETS 125. They are characterised by compact design, with a weight of just 1.2 kg and the recently developed MMC control electronics that guarantee up to 25% greater removal capacity at constant powerful speed. These sophisticated details may not sound spectacular – but they are certainly convincing. The integrated long-life chip collection bag for dust-free work, the aesthetically pleasing soft grip inserts, through to the PROTECTOR edge protection for less reworking. The new generation RTS, DTS and ETS compact sanders: A visible, perceptible and even audible improvement.


 Main Applications
Ideal for vertical surfaces or overhead work
One-handed sander for small surfaces, edges and tight corners
Sanding off paint and varnishes on window frames
Sanding natural wood and veneer prior to varnishing
Sanding close to edges on different materials
Where speed and surface meet
The MMC electronics ensure that no-load speed is equal to operating speed.
25% more material removal capacity
At 250 watts, the power of the DTS makes it stand out in its class and ensures rapid work progress.
Ideal for overhead work
With a compact design and weighing just 1.1 kg.
Fits perfectly in your hand
Comfortable handle thanks to its soft grip and ergonomically perfect switch position for both left- and right-handed operators.
Dust-free, healthier work
In combination with the mobile dust extractor or the long-life chip collection bag made from extra-durable nonwoven polyester.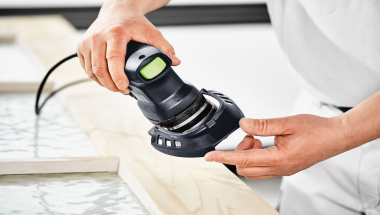 Less reworking
PROTECTOR for smooth sanding along window surfaces, frames and panelling.

CLEANTEC Connection System
Integrated bayonet fitting as the connecting element between the extractor and the tool.

Electronic
Speed control for adjusting to the working material.

MPE Sanding Pad
Extremely durable sanding pads and sanding discs for long service life.

Plug-it
Removable, replaceable power cable with safety lock for fast switchover.

Plus Systainer
Plus versions of power tools come in systainer storage containers.

Protector
Protects the sanding pad and material when working close to edges.

StickFix
Quick, economical fastening system for abrasives - no adhesives, no clamping.

Turbo Dust Extraction
Turbo dust extraction ensures clean, dust free air and a clear view of the workpiece.

Vibration Stop
Patented VS balancing so that tools run smoothly during sanding, which makes working less hazardous.
Includes
DTS 400 Iron Head Orbital Sander
StickFix Sanding Pad 100 mm x 150 mm
Tech Specs