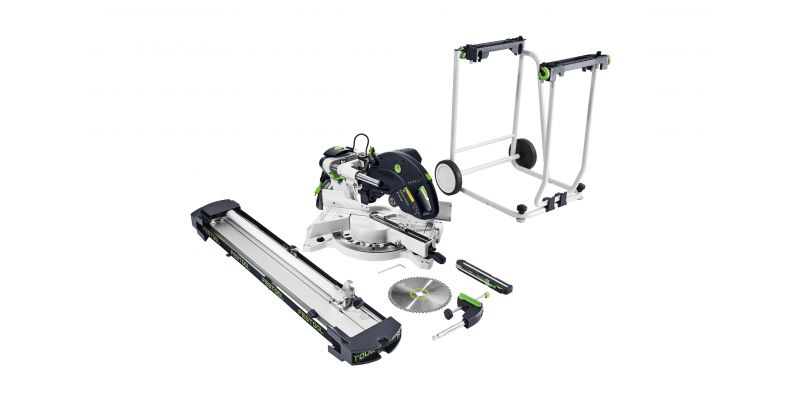 KS 120R KAPEX 260mm Slide Compound Mitre Saw Set - KS 120 REB-UG Set
Original price
$3,399.00
-
Original price
$3,399.00
Availability:
Special Order Item. Allow 5-14 business days before collection or postage.
Due to size restrictions this item cannot be sent to PO Boxes/Parcel Lockers
Guides left, guides right. Even where others only pretend to do so. With spherical bushings on both sides to offer a double layer of protection in terms of keeping the carriage precisely on course across extra-large columns. Double-sealed for an extremely long service life, always exact and with zero play.
Main Applications
Trimming skirting boards and cornices up to 120 mm in height – no calculations
Cutting boards and panels up to 305 x 88 mm
Trimming crown mouldings up to 168 mm in their original wall position
Trimming square timber and beams up to 88 mm thick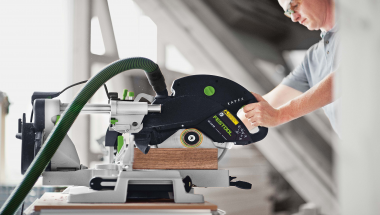 Maximum precision for the perfect cut
The KS 120 is impressive with its precise cuts thanks to the twin-column guide, powerful cutting capacity of up to 120 mm and light weight of 21.5 kg.
Extra large dimensions with dual ball bearings
The Festool twin-column guide guarantees reliable, smooth guidance of the saw blade and represents maximum precision.
Quality down to the finest detail
A double laser line precisely marks the saw cut.
Robust and mobile for harsh construction site applications
Ribbing and high-quality cast magnesium increase rigidity while keeping weight to a minimum.
Impressive cutting capacity
The special cutting position of the KS 120 allows you to cut strip material up to 120 mm vertically against the stop or cut coving and cornices in their "original wall position".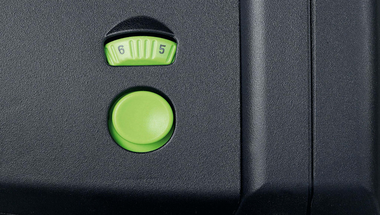 MMC electronics for safe working adapted to the material
Variable speed preselection, smooth start-up, overload protection and also with integrated quick-acting brake.
Short set-up times, good results
Always optimally prepared with FastFix for simple and quick replacement of the saw blade.
Even greater comfort
Fine adjustment for setting the saw blade angle accurate to the millimetre. As with all important control elements, it can be adjusted quickly and conveniently from the front of the machine.
Unlimited mobility
With ergonomic hand grips for left-handed and right-handed users, cord holder, transport safety device, clamp and an extremely compact, lightweight design.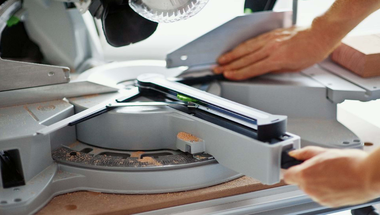 Saves time and eliminates errors
The bevel for rapid measurement of interior and exterior corners and subsequent simple and precise transfer to the saw.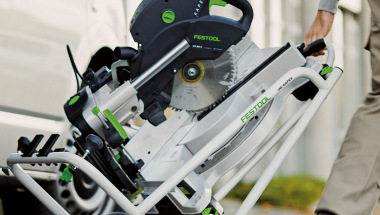 Static and transport frame in one
The base frame turns the KAPEX into a mobile unit that can be converted into a sawing station in three hand movements. With a trimming length of 2.40 m (including trimming attachment).
Also for long workpieces
The extension table, which can be pulled out separately, provides reliable and accurate support for long workpieces as well.

CLEANTEC Dust Extraction
Standard adapter (27/36/50 mm) for dust extraction to safeguard the operator and the environment.

FastFix
Makes changing accessories or consumables for routing, sawing, planing, sanding, drilling and screwdriving tools easier.

MMC Electronics
Multi Material Control power electronics with adjustable constant speed and temperature monitoring for work with all types of materials.

Quick Acting Brake
For safe work when planing, sawing and routing.

Dual Line Laser
Two laser lines for simple, precision positioning along the scribe mark from the left or right.
Includes
KS 120 R Sliding Compound Mitre Saw
Universal Saw Blade HW W60
KS 120 Saw Mobile Trolley
Right & Left Trimming Attachment for KAPEX Trolley
Telescopic Slide Out Scale
Tech Specs
Cutting Depth at 45°/90° (mm) 215 mm x 88 mm
Cutting Capacity at 90° (mm) 305 mm x 88 mm
Cutting Depth 45°/45° Left (mm) 215 mm x 55 mm
Cutting depth 45°/45° Right (mm) 215 mm x 35 mm
Cutting Depth 90°/90° (mm) 60 mm x 120 mm
Crown Moulding Mitre Cut at 45° (mm) 168 mm
Mitre Angle (°) 50° / 60°
Dimensions W x D x H (mm) 713 mm x 500 mm x 470 mm
Inclination Angle (°) 47° / 47°
No Load Speed (rpm) 1,400 rpm - 3,400 rpm
Saw Blade Diameter (mm) 260 mm
Dust Extraction Connection Diameter (mm) 27 mm / 36 mm
Power Lead Type Fixed Lead
Power Consumption (W or kW) 1,600 W