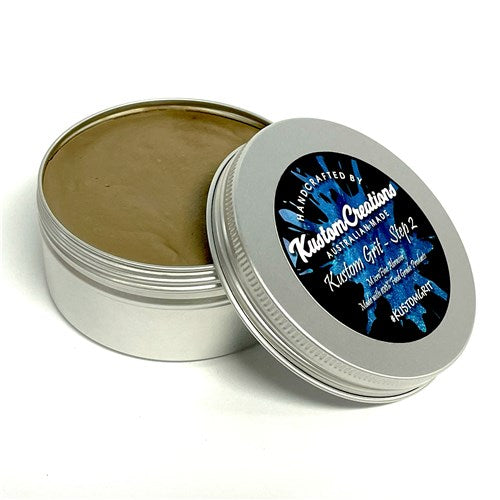 Kustom Grit Microfine Abrasive Step 2
Save

6

%
Save

6

%
Original price
$34.90
-
Original price
$34.90
Want to spend less time finish sanding and more on other projects without loosing quality? Look no further!
Tested in the Hammer Roo workshop these Australian Made Kustom Grit abrasives are ideal for giving your epoxy resin projects a glass like shine without hours & hours of sanding!
Includes: 
1 x 170mls Food Grade Kustom Grit Microfine Abrasive - Step 2
Kustom Grit Step - 2 (100,000 grit equivalent)
After wiping the piece clean from Kustom Grit Step 1 apply Kustom Grit Step 2 with paper towel or cloth to the work piece.
For best results use a Buffing pad to work the product into the piece. Can also apply by hand with a clean cloth.
After buffing use a clean cloth to wipe any excess from the work piece.
Please Note: Great results are achieved anywhere from 400 Grit, however 2000 Grit will give a glass like finish. The higher the sanded grit, the better the overall finish will be.
FAQ's:
Does Kustom Grit work on timber?
YES! The materials used will protect any wood used in the work piece and the resin can be free from oils.
Can Kustom Grit be used for Lathe work?
YES! Kustom Grit Can be used for Lathe work recommend using Low RPM between 400 to 800
Can Kustom Grit be used on any other surfaces?
YES! Kustom Grit is great for cleaning & sealing cast iron tops, metals & other fine polishing.