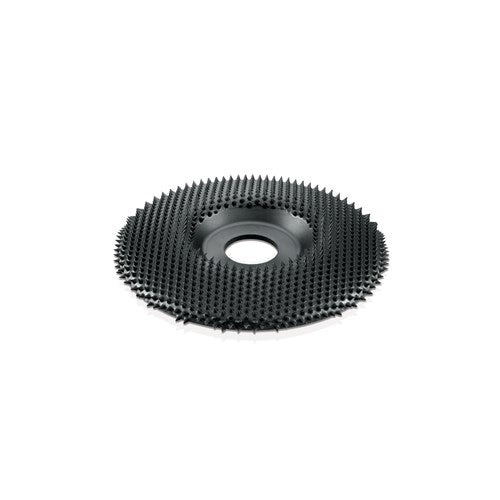 Kutzall Extreme - Shaping Disc - Very Coarse
Original price
$115.90
-
Original price
$115.90
The must-have, most versatile angle grinder accessory. Whether you are a casual hobbyist or professional craftsman, Kutzall's durable carbide coatings will last job after job.

Kutzall Shaping Discs are the perfect tool for flat or convex shaping - giving you effortless control while saving you time. They have a nearly flat shape with just a slight curvature for the most effective use of the coated area. Their rapid cutting action and incredibly smooth operation make them excellent for contouring sculpted chairs, large bowls, even dimensional lumber. For free-hand grinding and shaping, you can expect to "Do It All, With Kutzall". These tools are fast-cutting and long lasting, designed to work easily and efficiently where other conventional tools fail. Their tungsten carbide coatings consist of hundreds of extremely sharp teeth that rapidly remove stock and outlasts hundreds of sandpaper pads. They are not prone to loading but may easily be cleaned with solvent or burned clean with a gas torch.

Kutzall Original tools are the most popular and versatile tools in the Kutzall line. They feature sharp, uniform pointed teeth of exceptionally hard metals, brazed onto the steel tool form. These tools remove material very rapidly, yet leave a relatively fine surface on the work. Kutzall Original tools also provide a very smooth cutting action for ease of control. Recommended Max RPM is 15,000.

Compatible with most angle grinders including: Makita, Bosch, Dewalt, Black & Decker, Milwaukee, Hitachi & more. Mounting Instructions: The Discs and Dish Wheels feature a 7/8" I.D. and are intended to mount on a standard electric angle grinder with a 5/8" shaft. They mount on the 7/8" shoulder found on the shouldered bushing or adapter included with most angle grinders. The shouldered bushing is put on the grinder first, followed by the wheel and then the nut.
Flatter Disc Shape
4 1/2" Diameter
7/8" Bore
Extreme Very Coarse

Rapid Material Removal - Saving you time and effort
Comfortable, Effortless Operation - Allowing you to easily and quickly remove a variety of materials
Tungsten Carbide Teeth - Giving you outstanding wear-life, for a much longer lasting burr
Leaves a relatively smooth finish
Not for use on Metal