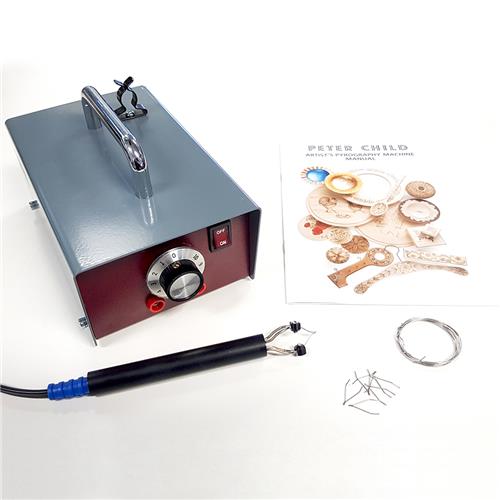 Robert Sorby Peter Child Artist's Pyrography Machine Kit
Original price
$373.00
-
Original price
$373.00
Pyrography is a fast growing pastime in its own right. For woodworkers it can add a whole new dimension to decorating workpieces. Whether you're a woodcarver etching lifelike detail to a bird carving or a woodturner creating patterns on your work, pyrography can transform ordinary looking projects into beautifully decorated ornaments, quickly and easily.
And you don't need to be an artist to create stunningly impressive pieces.

The Peter Child Artist's Pyrography Machine from Robert Sorby is a highly regarded machine that is well sought after by professionals. It is powerful enough to handle the densest of timbers yet is comfortable to handle, making it ideal for the beginner as well. As with anything from Robert Sorby, the build quality is exceptional and will likely be the last pyrography pen you will ever buy.

Features and Benefits:

• Slim, light and comfortable pen design
• Perfect for precise detailed work
• Cool running handle for comfort
• Warms from cold in 2 seconds
• Excellent reliability
• Incredible durability


Each pyrography machine contains:
1 pen 
1 metre length of 25 standard wire gauge (SWG) to make your own points
6 spare nickel chromium nibs (five standard points in 25 SWG and one spoon point in heavier 24 SWG)
A handy 12 page manual full of ideas.
Note: Pyrography pens work at extremely high temperatures.
Note: Do not use on pressure treated timber, or timber treated with chemicals.