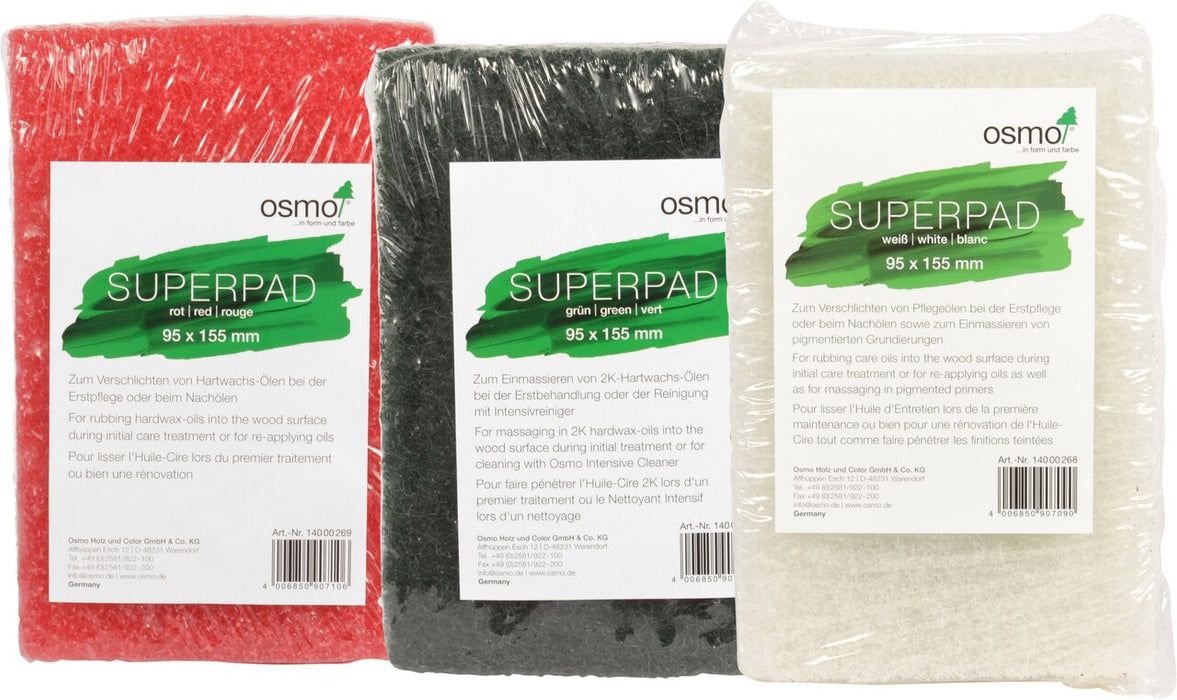 Non-Woven Pad 95mm x 155mm
Original price
$7.50
-
Original price
$7.50
A non woven "scotch brite" cleaning and buffing pad. They are 95mm x 155mm in size, designed to fit the Osmo Hand Pad Holder
The white pad is the least abrasive of the pads. For light cleaning and removal of day to day dirt and stains, when using a liquid detergent such as Osmo's Wash and Care. Also designed for buffing faded or dull areas with floor polishes – such as Osmo's Liquid Wax Cleaner.
The pads are available in four different finishes depending on the desired application:
The microfibre applicator fleece is suitable for applying all Osmo interior finishes with the exception of Wood Wax Finish Extra Thin and Wood Protector.


The White Superpad is an ultra fine pad and the least abrasive of the three coloured pads, suitable for applying maintenance products such as maintenance oil and liquid wax cleaner and for applying a maintenance coat of Polyx oil.


The Red Superpad is a medium pad suitable for removing more stubborn marks with liquid wax cleaner and for applying maintenance coats when a more abrasive applicator is required.


The Green Superpad is a coarse pad suitable for use with Osmo Intensive Cleaner or when massaging in 2K hardwax oils.