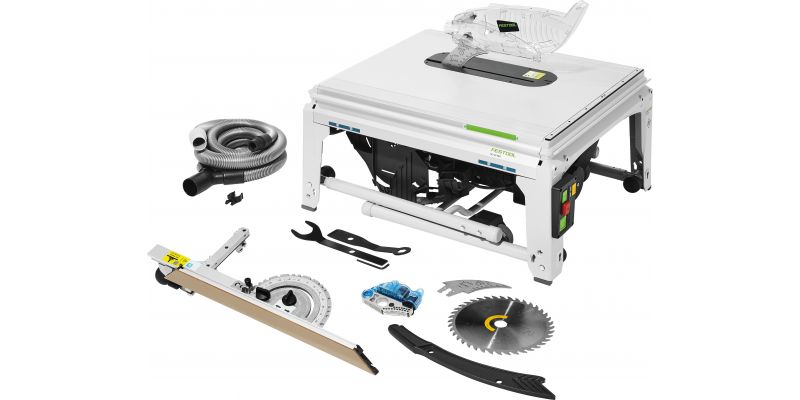 TKS 80 SawStop 254mm Table Saw - TKS 80 EBS
Original price
$3,949.99
-
Original price
$3,949.99
Availability:
Special Order Item. Allow Special order item. Please allow 5 - 14 business days before collection or postage. Please contact us for accurate item availability. Special order conditions apply. business days before collection or postage.
Due to the size and weight of this item it is required to be shipped on a pallet. If a forklift is unavailable a tailgate delivery charge may be applicable. Please contact us for additional postage options & postage quotes.
Every year approximately 4,000 people are injured on circular saws, corresponding to 16 injuries per working day.
Around 26% of serious accidents even result in an accident pension (German Social Accident Insurance (DGUV) statistics 'Accidents at work 2017).
With the new TKS 80 table saw, the risk of most serious cutting injuries during sawing is reduced. While you concentrate on your work, we protect your most valuable tools – your fingers.
Main Applications
Cross-cutting up to a width of 820 mm with sliding table, at a cutting depth of 20 mm
Rip cutting up to a cutting height of 80 mm and a width of 600 mm with an extension table
Tilting saw blade for angled cuts between -2° and 47°
Note: The TKS 80 is excluded from Festool's 30 Day Money Back Guarantee.
Integrated SawStop technology
The risk of serious cutting injuries is reduced.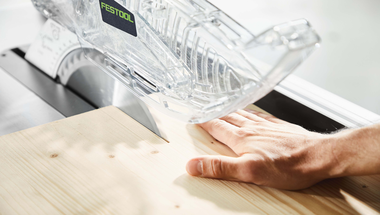 Responsive sensor
If the saw blade comes into contact with the users skin, it is stopped within 5 milliseconds and disappears into the work surface.
Intelligent cartridge
A cartridge releases a pretensioned spring and pushes an aluminium block into the saw blade. After being triggered, the cartridge is replaced in just a few steps.
Flexible cutting height
Flexible cutting height up to 80 mm for larger cross cuts.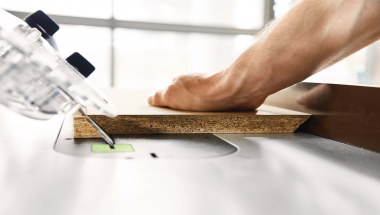 Maximum precision
Fewer splinters on the upper surface of the material in mitre rip cuts by swivelling the saw blade to the left. More space for your hands and a clear view of the workpiece.
Comprehensive system accessories
Work surface can be extended in its length and width. Sliding table for cross-cutting up to 920 mm.
Bypass option
SawStop technology can, if necessary, be deactivated. This means that even conductive materials can be machined using the saw.
Precise cuts
With locking positions and fine adjuster, can also be used for cross cuts and rip cuts.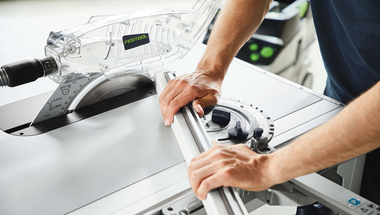 Healthier working with a system
Dust extraction attachment with CLEANTEC extraction sleeve ensures dust-free work and a free view of the workpiece.

Splinterguard
Patented splinterguard for splinter free cuts on both sides when sawing.

CLEANTEC Connection System
Integrated bayonet fitting as the connecting element between the extractor and the tool.

MMC Electronics
Multi Material Control power electronics with adjustable constant speed and temperature monitoring for work with all types of materials.

Quick Acting Brake
For safe work when planing, sawing and routing.
Includes
TKS 80 SawStop 80mm Table Saw
Dust extraction hose set with Y piece
Tech Specs
Table Height - Legs Unfolded (mm) 900.00 mm
Table Height - Legs Folded Away (mm) 385.00 mm
Table Dimensions (mm) 690 x 580 mm
Cutting Height 45° (mm) 56 mm
Cutting Height 90° (mm) 80 mm
Inclination Angle (°) -2 / 47 °
No Load Speed (rpm) 1700 - 3500 min⁻¹
Saw Blade Diameter (mm) 254.00 mm
Dust Extraction Connection Diameter (mm) 27/36 mm
Power Consumption (W or kW) 2 000 W