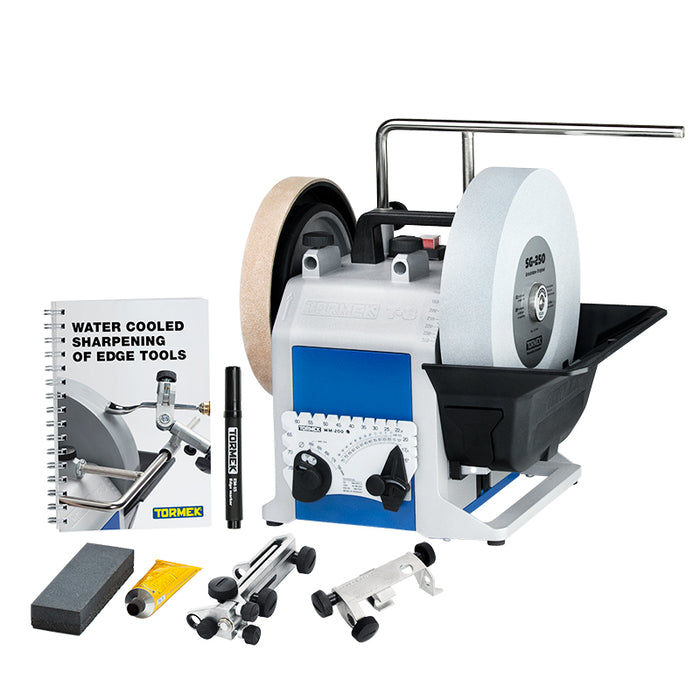 Tormek T-8 Original Sharpening System T-8ORIG
Original price
$1,545.00
-
Original price
$1,545.00
The Tormek T-8 Original is a powerful and versatile water-cooled sharpening system that has everything you need to take your sharpening to the next level. The advanced design and its user-friendliness give you the best possible conditions for successful sharpening with top results. The Tormek T-8 Original is ideal for both quality-conscious, enthusiastic amateurs and professionals.
Why the Tormek T-8 Original?
Sharpens all your edge tools. Add the jigs you need and build the system.
Water-cooled sharpening with no risk of overheating the steel.
Exact repeatability– sharpen your tools with unbeatable precision.
Efficient grindstone with adjustable properties equivalent to 220 to 1000 grit.
Solid zinc frame with integrated mounts for controllable and accurate sharpening.
Powerful industrial AC motor for continuous use.
8-year warranty, 5 years + 3 years when you register online.
Sharpen with unbeatable precision
The advanced design ensures unbeatable precision for the Universal Support, which is the foundation of the Tormek sharpening system, since it guides all grinding jigs and accessories. The patented precision mounts for the Universal Support are integrated in this model's fully cast machine housing. This gives you full control and maximum accuracy in your sharpening.
The highest quality made in Sweden
The Tormek T-8 Original comes with the SG-250 Original Grindstone. It has adjustable sharpening properties equivalent to 220 to 1000 grit and sharpens all types of steel grades, including HSS. Tormek's efficient drive system guarantees you many years of quiet and reliable use. The system is built to maintain optimal speed for water-cooled sharpening, even under full load, thanks to its unique drive wheel. The industrial AC motor is maintenance-free and designed to run the full-size grinding wheel for continuous use. The motor is tested for a 25,000 hour service life.
Water trough with screw lift and magnetic scraper
The Tormek T-8 Original is equipped with loads of smart features to make your sharpening easier. For example, the water trough has a convenient screw lift to easily raise and lower the water trough. It also has a double function magnetic scraper: during sharpening, the magnet collects steel particles, and after sharpening, the scraper will make it easy to clean the water trough. For long tools that may drip water outside the water trough (like chef's knives and planer blades), you can easily fit the enclosed water chute onto the edge of the water trough.
EzyLock – quick and easy switching of grinding wheels
Another worked-through detail is the stainless-steel main shaft with Tormek's unique EzyLock nut, which enables tool-free locking and unlocking of the grinding wheel. The EzyLock also makes it easy to change grinding wheels if you work with some of Tormek's special grindstones SB-250 Blackstone Silicon or SJ-250 Japanese Waterstone. Or perhaps one of our diamond grinding wheels?
The base and support for all jigs. Gives unbeatable precision when sharpening.
Patented Precision Mounts
Guarantees controllable and accurate sharpening.
With ACME thread and a scale for precise angle setting.
Efficiently collects steel particles and makes it easy to clean the water trough.
Easily raises and lowers the water trough.
Convenient, tool-free locking and unlocking of the grinding wheel.
Maintenance-free. Minimal rpm loss under heavy pressure. Tested for a 25,000-hour service life.
RKX18 rubber ensures years of silent and reliable operation.
Includes:
T-8 Sharpening System with Original Grindstone SG-250, leather honing wheel & US-105 universal support.
Included in box: SE-77 Square Edge Jig, WM-200 AngleMaster, PA-70 Honing Compound, HB-10 Handbook, SP-650 Stone Grader & TT-50 Truing Tool.
About Tormek:
Well-grounded in the Swedish tradition of advanced innovation, functionality and quality, Tormek has developed a unique sharpening system that has come to set a standard in modern edge tool sharpening around the globe.