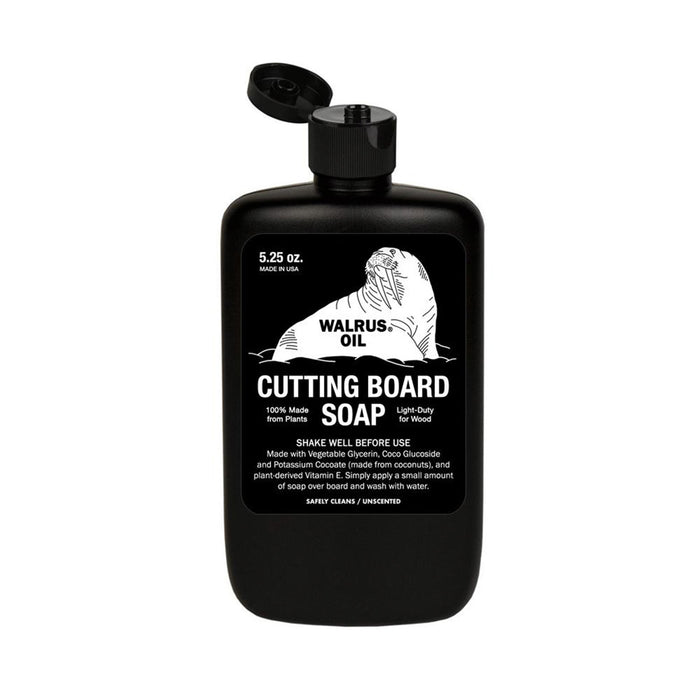 Walrus Oil Cutting Board Soap
Original price
$15.90
-
Original price
$15.90
Cutting boards get dirty and stained. And the use of heavy-duty detergents can accelerate the wear and tear to the finish of your cutting board and wooden utensils. Walrus Oil Cutting Board Soap is a light-duty concentrated soap that is effective yet easy on wood and wood finishes.

100% made from plants. Walrus Oil Cutting Board Soap is a simple recipe made from vegetable glycerine, coconuts, and plant-derived vitamin E. There are no added toxins, unhealthy preservatives or fragrances.
Non-toxic

Walrus Oil Cutting Board Soap is non-toxic and certified 100% food safe. You are free to use them to clean cutting boards, wooden utensils and counter tops. Walrus Oil products may be used to clean your kid's toys.
Easy to use

Simply apply a small amount of Walrus Oil Cutting Board Soap over your cutting board, scrub and rinse with water.
Earth friendly

Walrus Oil Cutting Board Soap is Earth friendly. The product range is 100% free of toxins and synthetic chemicals. Old mother Earth will thank you.
No Walrus Harmed

Walrus Oil produce a range of products from wood finishes to leather care to lip balm. Walrus Oil has been built from a love of nature and a commitment to making clean and safe products that are good for you and good for the environment.

Use Walrus Oil Cutting Board Soap to clean your wooden surfaces.